WTTk, the Windows Tweaking Toolkit
WTTk is a light weight, free and open source Windows Tweaking tool.
It's functions include:
Shortcuts to hidden or obscure Windows native tools.
Ability to change publicly unavailable desktop settings.
Ability to disable many annoying Windows features.
A shutdown scheduler.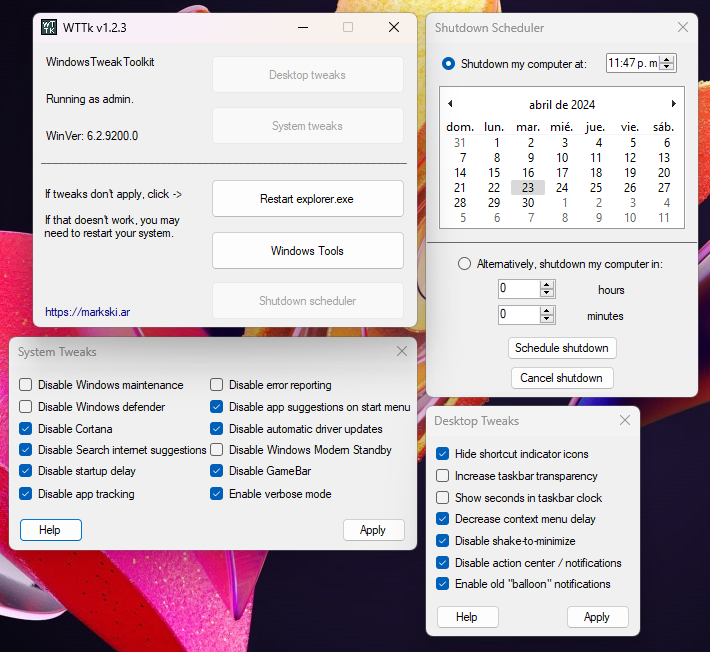 Most important of all, WTTk is in active development, and always accepting feedback for new features.
You can find the download for the latest version of WTTk in this page.
WTTk has only been tested on Windows 10.
It -should- work on Windows 11, and it'll -likely- work on 8/8.1, but I cannot guarantee these.
If you find WTTk useful and wish to help, please consider making a donation.
Why does WTTk require admin permissions?
Admin permissions are required for access to modify registry keys, which is required to apply the tweaks it offers.
Where is the source code?
It is available in it's GitHub repository.
Can I suggest new features?
Yes! Feedback is always welcome. To suggest new features, improvements or bug reports, simply contact me or post them in the repository above.
How can I contact you?
With the methods listed at the top of the homepage.
WTTk doesn't work, throws an error on launch!
WTTk requires the .NET 6.0 Runtime in order to run. Your should already have this if your Windows is up to date, though.